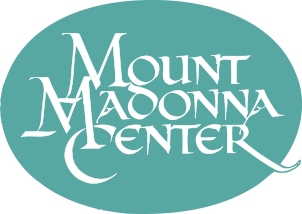 Vegetarian Cuisine
at Mount Madonna Center
At Mount Madonna Center, we make an effort to provide delicious and nourishing meals that accommodate our community and guests. All meals are 100% vegetarian and we provide a vegan and gluten-free option at every meal. We use organic ingredients as much as possible. We make an effort to label known allergens. We do not cook with garlic or onions. We do not permit guests to bring food from outside.

Reverse osmosis filtered water and tea are available 24/7 in the Community Building, Conference Center, and Seminar House.

Some people have extreme sensitivity to certain foods such that even the slightest trace amount of such foods can trigger life-threatening allergic reactions. Unfortunately, we cannot guarantee that no trace amount of any given food will ever appear in other dishes. Someone with an allergy of such severity should know this in considering whether they want to come to Mount Madonna Center. A kitchen person will be present at each meal for those who require more information or have further food sensitivities.

Below you will find a sample of meals served daily, subject to change.
Available during the day
Fresh fruit
Homemade bread (gluten free and regular)
Rice cakes (gluten free)
Peanut butter, tahini, jam, butter, vegan butter
Available at most meals, including breakfast
Simple soup (vegetables boiled in vegetable broth, no seasonings or salt)
Breakfast (8:30-9:30 am)
Oatmeal (certified gluten-free)
Kitchari (an ayurvedic dish of dal, rice, and spices)
Granola
Yogurt
Cottage cheese
Fruit
Raisins
Nuts and seeds
Pancakes (occasionally)
Rice pudding (occasionally)
Muffins (occasionally)
Lunch (12:30-1:30 pm)
Soups or Stews (vegan and gluten-free)
Grains: Rice, Quinoa
Protein such as Tofu or Beans
Fresh Green Salad and Homemade Dressings
Yogurt
Nuts
Cottage Cheese
Potatoes (sweet or white)
Hummus/Nut Spreads
Bagels
Dinner (5:15-6:15 pm)
Dinner is the largest meal of the day and offers the greatest variety. Dishes range from vegetable curry to lasagna to tofu scramble to tacos. Gluten and dairy free options are always available. When tofu or soy is used, we always offer a bean alternative (and vice versa). When vegetable medleys are offered, there is always an option that does not contain brassicas. Grains and green salad with homemade dressings are always available. Gluten-free pastas are available on pasta nights. Cheese served in a separate bowl is also usually available.
We do not Serve Lunch on Saturdays
Saturday Breakfast 10:00-11:00 am

Dinner 5:15-6:15 pm